---
Archives
Profile pic
Bio
I started 3D back in 2004.
I mainly do 3d modelling both low and high poly without subdivision control at the final look.
Im currently away from any activity in this website, so any progress of my 3d wips will be going slow.
Some of my 3d models are available on sale, links below.
My 3D Models
My Links
WIP Status :
Latest post
Visitors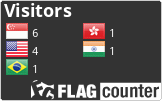 Tags
Tools of Trade
3ds Max
Vray Rendering
FStorm Rendering
Phoenix FD
Substance Painter
Photoshop